written on Friday, February 9, 2018
As I mentioned in my previous article about adding sounds to Pixel Wheels, I started yet-another side project: SFXR Qt. This is a QtQuick port of SFXR, a retro sound-effect generator by DrPetter.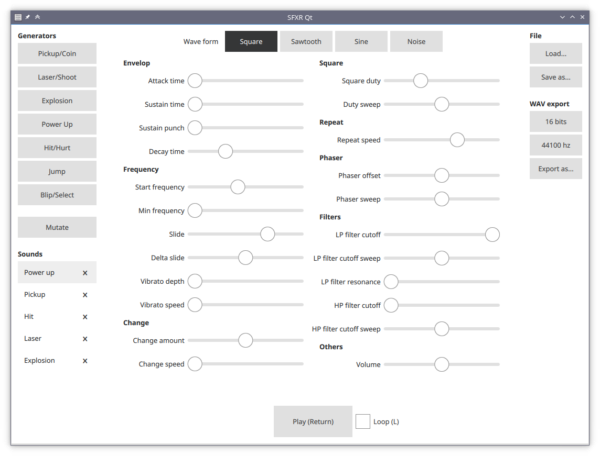 SFXR is a fun way to quickly generate old-school sound effects for your game, even if you are not a sound engineer. The generator buttons in the top-left area give you good starting points to create various sounds, and you can fiddle with the various sliders to adjust the sound to your liking.
There are many forks/ports of SFXR, why another one?
I started the port for a few reasons:
First, the current UI is hard to use: something is wrong with the sliders, they do not follow the mouse. The UI is also super small on a HD screen.
Second, the other ports are all Flash-based, which I am not comfortable relying on.
But more important: I wanted to dive into sound generation a bit, and it was a fun way to get into this!