Burger Party 0.14
written on Saturday, April 19, 2014
Here is Burger Party 0.14. No ground-breaking changes in this new version, except for the fact worlds now contain 12 levels again. I made this change because I want to add more items, but I don't want every level to unlock a new item: one should not spoil players :).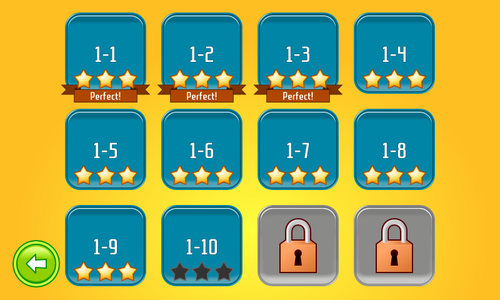 Special note for testers: the addition of new levels means you are likely to end up with a weird situation in your level list: if you already finished world 1, level 2-1 is unlocked, but the new levels (1-10, 1-11, 1-12) are still considered new so level 1-10 will be available but with zero stars, and levels 1-11 and 1-12 will be locked. Just finish the new levels and your level list will look normal again. That cannot happen for new players, it is part of the joys of being a tester...
Other than that, version 0.14 comes with the following changes:
3 new achievements:

Creative: create 10 different burgers in sandbox mode.
Fan: play 40 levels.
Burger Apprentice: create 25 burgers.

Fixed a bug which made it possible to skip a level by pressing the "next level" button twice.
Fixed text overflowing out of screen in the "new item screen" when playing in French.
Reworked Japan world to add more variety in customers.
Reworked the background of achievement notifications.
That's it for this new version, hope you like it.