Introducing Homerun
written on Wednesday, November 14, 2012
Today I am happy to present you the result of a few months of Shaun Reich and I work: Homerun, a fullscreen launcher.
Quoting the homepage:
Homerun is a fullscreen launcher with content organized in tabs. A tab is composed of several "sources". A source can provide one or more sections to a tab. Homerun comes with a few built-in sources, but custom sources can be written using libhomerun.
Homerun can be opened from its applet: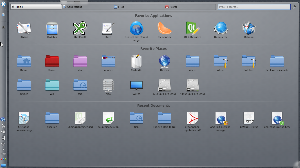 Or used as a containment: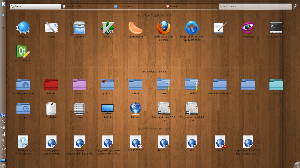 I also created a screencast explaining how it works:
can't see the video? click here
Getting it
Homerun currently requires kdelibs 4.8, 0.2.0 will likely require 4.9 or 4.10.
Version 0.1.0 is now available from download.kde.org.
Git repository is on projects.kde.org. There is also a nightly PPA for Kubuntu users. Of courses, packages for other distributions are welcome.
For more information, check Homerun homepage.
Update: openSUSE packages are available from software.opensuse.org.
What's next?
Activities
Homerun could greatly benefit from integrating with KDE activity system. For example I have a "Code" activity and a "Photo" activity, I would like to have different favorite applications and places for each of them.
More sources
The more sources we get the more useful Homerun is.
I have a few ideas in mind, for example a world-clock source showing time in selected timezones (we are KDE: we need more clocks!), sources for Flickr or Picasa would be nice as well, I am pretty sure you can find interesting ideas.
One could even create an Amazon source... Could be handy as long as it is not on the Home tab :)
You can create sources using libhomerun. Generate the API documentation by running make dox and have a look at the helloworld example source.