March 2023 monthly update
written on Friday, March 31, 2023
Introduction
Welcome to this monthly update! This month Pixel Wheels did not receive much work, but I made an important decision. I worked on Clyde, Nanonote and TMFI.
Pixel Wheels
I spent more time on NPong, but I eventually decided against opening the Pandora box of network play. I want to get Pixel Wheels 1.0 out in 2023, and I don't see this happening if I try to get network play in. Instead I am going to resurrect the old split-screen multiplayer mode, and extend it to 4 players.
Depending on how the game evolves after 1.0, I may revisit this idea of network play, but right now I just want to be done with it.
Clyde
I released version 0.5.0 of Clyde. The main changes in this release are:
Support for Bash and Zsh completion. This is quite nice, even if it's not widely supported for now (I should really add completion to Clyde itself 😅).

A package can now be reinstalled with clyde install --reinstall <package>. This is useful for completion, see below.

Some network improvements: first, clyde setup now creates a shallow clone of the store, making initial setup faster. Second, when a download times out, Clyde now retries 2 times before giving up.

More work on making it possible to automatically find new releases for packages not hosted on GitHub: gitlab.com is now supported and there is work in progress to add a more generic "fetcher" to support other hosts.
Under the hood, I drastically improved the functional test suite. It used to consist of a bunch of shell scripts. I rewrote it using pytest. This makes it easier to add new tests.
If you already use Clyde (awesome!) and want to make completion work you need to:
Update Clyde activation script with clyde setup -u;
Reinstall the package for which you want to use completion with clyde install --reinstall <package> (see next section for the list of packages supporting it).
I planned to make a more formal announcement about this new version, but while writing it I realized the "new user experience" was not good enough to make for a good demo. Blog Driven Development strikes again 😅. I shelved the announcement for now. Next version should be good enough!
Clyde Store
4 new packages have been added this month:
The Helm package made me particularly happy: not because I use Helm, but because it is the first package created by someone else, thank you xaocon for your contribution!
The following packages now support completion:
bat
fd
fzf
gum
ripgrep
xh
Nanonote
I experimented with highlighting Markdown-like headings in Nanonote and ended up liking it, so I merged the changes in. It looks like this: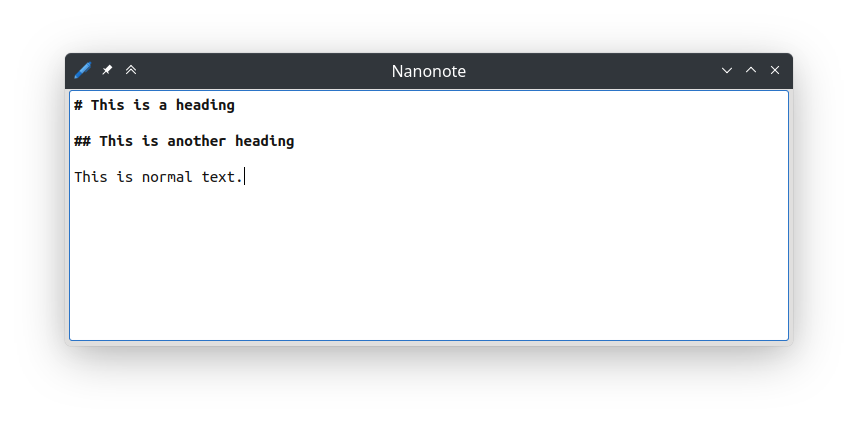 In other news, Nanonote should get a Flatpak package soon! The work was started in #44 by Justin Zobel (Thanks a lot!), and I continued it. Nanonote should therefore be available on Flathub in April 🤞.
I also fixed some minor bugs:
The close button of the search bar used an unusual cross character which was not available in all fonts. I changed it to a more common character.
When holding Control over the text to click on links, the cursor no longer changes to a pointing-hand until the cursor is actually over a link.
I expected to release a new version of Nanonote this month, but I ended up releasing only a pre-version, so I'd say March objective is half done...
TMFI
A couple minor changes went into TMFI, The Missing Firefox Installer.
First, it no longer tries to resume interrupted downloads. Resuming downloads was not reliable because Firefox archive filename does not change between versions, so a download could have been started for version N and continued with version N+1.
Second, the categories in the .desktop file have been fixed, so the launcher icon now correctly appears in the desktop menu.
What's next?
In April, I want to:
finally release version 1.4.0 of Nanonote, with a Flatpak package;
continue working on Clyde, improving the new-user experience, so that I can publish that announcement article I postponed this month;
resume work on Pixel Wheels, notably resurrect the split mode.