Pixel Wheels vehicles
Home | Vehicles
Red Lightning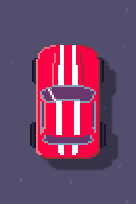 A muscle car, the very first vehicle added to the game.
Red, fast, with a good handling. You can't go wrong with this one.
Highway Patrol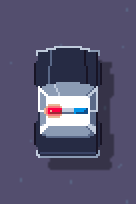 If you are on a mission from God, this car is for you. The cigarette lighter is missing, hopefully you don't smoke...
May be a reference to the Bluesmobile, the police car from the Blues Brothers movie, before the loudspeaker was mounted on its roof.
Pickup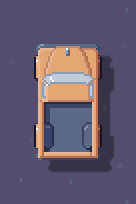 Your standard utility car. Robust and reliable.
May be a reference to Mater from the Cars movie.
Roadster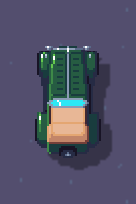 When you want to race, but with a touch of British flair.
The color of this car is a reference to the British racing green.
Ant On-1
This vehicle went through several iterations. It started as a space truck but later evolved into a beach surf van.
The name is a reference to my son first name: Antonin, who drew the first versions of it.
Santa Truck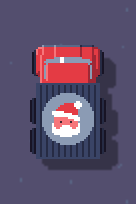 Created a few Decembers ago. Legend has it that when Santa Claus is not riding his sled, he enjoys driving this big truck!
The only 6-wheeled vehicle of the game. The wheels on the middle axis can steer too.
2-Deuch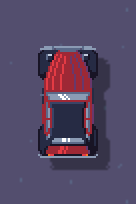 May be inspired from a true French classic: the Citroën 2CV, in its Charleston livery. "Deudeuch" was a popular way to call the 2CV.
This is the car you need to go buy your daily baguette. Too bad there aren't any bakeries in Pixel Wheels!
Harvester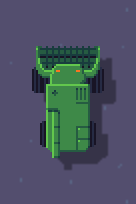 Do you enjoy driving in the grass? Then the Harvester is for you!
This is the only vehicle with steering on the rear axis. Racing with it is very different because of this.
Obviously not drawn at scale :)
Rocket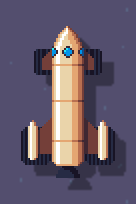 When you want to go faaaast, nothing beats a rocket on wheels!
This vehicle is fast, but can be hard to master. Hitting a wall is quite punishing.
Dark M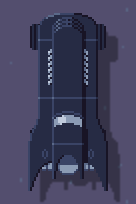 A dark and long vehicle.
This vehicle is inspired from a car you can see in a Tim Burton movie about a super hero battling against a very smily villain. The name is a reference to the title of another movie from Christopher Nolan about the same super hero.
Jeep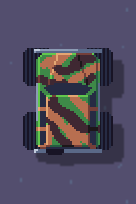 A large gas eater and carbon-monoxide producer. One of the few vehicles with large-size tires. These vehicles aren't good for the planet. Luckily, Pixel Wheels version does not contribute to climate change :)
May be inspired from the Hummer H3.
Miramar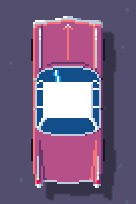 Another long vehicle. For the old-US-car lovers among you.
May be inspired from the 1960 Cadillac Eldorado Biarritz. Miramar is the name of a beach near Biarritz.
Broster Truck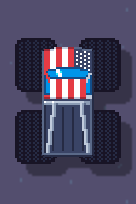 An even larger gas eater! The only vehicle with huge-size tires. In fact, support for different tire sizes was added to the game just for this one!
Inspired from the trucks one can see on the fliers for monster truck exhibitions.
The name may be a reference to the Broforce game.